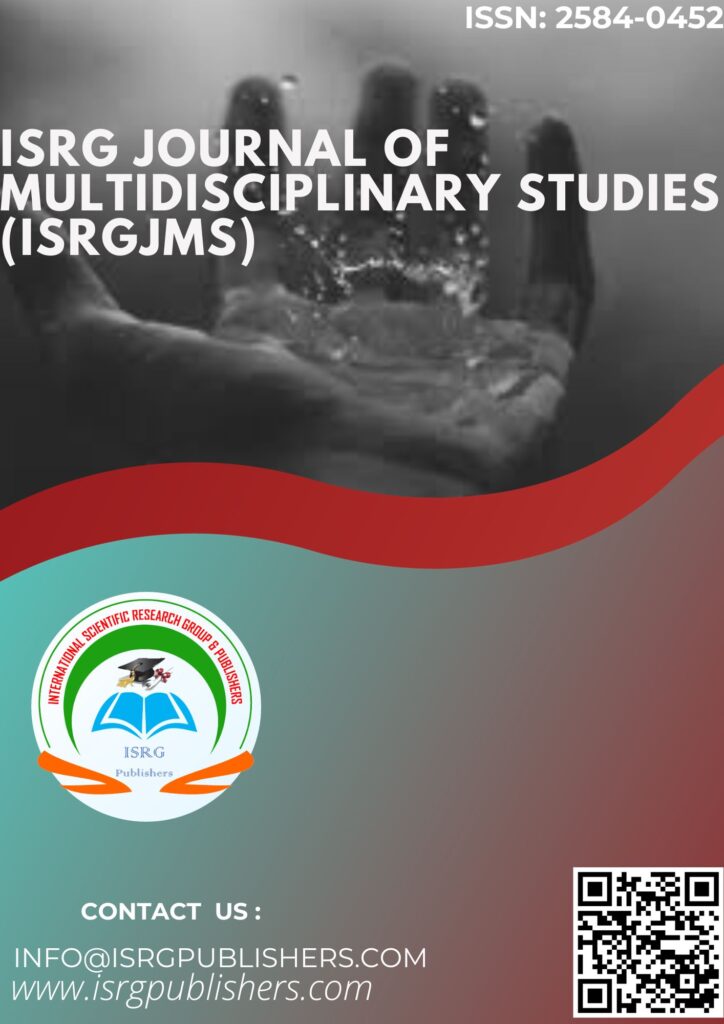 ISRG Journal of Multidisciplinary Studies (ISRGJMS)
ISSN: 2584-0452 (Online)
Abbr. Title: isrg j. multidiscip. Stud
Frequency: Monthly
Published By: ISRG Publishers
Address: Nam Doboka Pathar, Hindu Block, Hojai Assam 782440
Country of Origin: India
Language: English
Chief Editor: Dr. Jijo James Indiparambil
Starting Year: 2023
Impact Factor
IPI Value
Google Scholar
Impact Factor
Impact Factor: 4.27
IPI Value
Google Scholar
Starting Year: 2023
"ISRG Journal of Multidisciplinary Studies (ISRGJMS)" ISSN: 2584-0452 (Online)  is an open access peer-reviewed, Monthly international journal Published by ISRG Publishers. It is dedicated to publish and disseminate the high-quality scientific research work in the broad field of Multidisciplinary Areas. It aims to publish peer-reviewed original research, theoretical and practical advances in Multidisciplinary Areas. The goal of this journal is to provide a platform for scientists and academicians all over the world to promote, share, and discuss various new findings and developments in different areas of Multidisciplinary Areas
The subjects, in specific, covered by the journal include:
Agricultural, Sciences, Archeology, Astrobiology, Biochemistry, Biodiversity and Conservation, Bioinformatics, Biological Sciences, Biology, Biotechnology, Developmental Biology, Ecology, Entomology, Environmental Science, Evolutionary Biology, Genetics, Histology, Ichthyology, Immunology, Life Sciences, Limnology, Malacology, Marine Sciences, Microbiology, Molecular Biology, Neuroscience, Paleontology, Physiology, Quantum Biology, Structural Biology, System biology, Theoretical Biology, Toxicology, Virology, Zoology, Health Sciences, Anesthesiology, Bariatrics, Critical care medicine, Dermatology, Emergency medicine, Family medicine, General Practice, Hematology, Infectious disease, Kinesiology, Laboratory medicine, Medical physics, Medicine and Dentistry, Neurology, Nursing and Health Professions, Nutrition and Metabolism, Oncology, Ophthalmology, Otolaryngology Pathology, Pharmaceutical Science, Pharmacology and Toxicology, Pharmacology, Psychiatry, Public health and preventive medicine, Radiology, Siddha and Ayurveda, Splanchnology, Surgery, Urology, Veterinary Medicine, Veterinary Science, Chemical Sciences, Arts and Humanities, Business Management, Chemical Engineering, Computer Science, Decision Science, Earth and Planetary Science, Economics, Education, Energy, Engineering, Engineering & Technology, Engineering Sciences, English Literature, Finance, Hindi Literature, History, Hotel Management, Information Technology, Law, Linguistics and Languages, Management, Material Science, Mathematical and Statistical Sciences, Mathematics, Physical Education, Physical Sciences, Physics and Astronomy, Political Science, Psychology, Religion Studies, Sanakrit Literature Tourism, Accounting, Banking, Business and Marketing, E-Commerce, Economics, Enterprise Resource Planning, Financial Development Human Resources, Income Tax, Insurance Marketing, IT in Business, Managemen,  Modern Banking etc.
Current issue is under working progress 
Special Issue will release soon.
The research papers/articles should be submitted in accordance with the guidelines detailed below.
Kindly email your paper on: submit.isrgpublishers@gmail.com
Manuscript format: Manuscript must be in English prepared on a standard A4 size paper setting. It must be prepared in 12-point Times New Roman Font on a single space and two column with 1" margin set for top, bottom, left and right.
Manuscript Title
The title of the manuscript should fully reflect the topic of the research and its content. It must be short and concise.
Author Information- Please indicate the full name of author(s) clearly. Present the authors affiliation below the names. Provide the full address of each affiliation, including the country name, correct e-mail address, and telephone number of each author.
Abstract should be in fully justified and italicized text. It must not exceed 500 words. The abstract should elaborate research background and methodology. The major finding(s) and conclusion must be presented in brief. Abbreviations must be mentioned in full. Background, Aims, Methodology, Results/Findings, and Conclusion are essential elements of the abstract. Maximum 4-6 keywords, listed alphabetically, separated by commas, and full stop at the end.
Introduction: The manuscript should include the purpose of the investigation and relating the manuscript to similar previous research. Only information essential to the arguments should be presented.
Method and Materials: This section must contain specific details about the materials studied, instruments used, specialized chemicals source and related experimental details which allows other research worker to reproduce the results.
Acknowledgement (if any): This section can be kept at the end of the manuscript before reference section.
References
The references in the text should be handled APA with the use of last name, year of publication and page number. The bibliography should include those reference cited in the text of the paper, boldface and "SIZE 12". References should be listed on a separate page at the end of the paper. A line must be skipped between references. Bibliography should be in APA Format.